07/07/2022 às 10:11
EL SALVADOR DELIVERY MEDALS TO WINNERS IN NATIONAL COMPETITIONS IN CHILE AND WORLDSKILLS AMERICAS GUATEMALA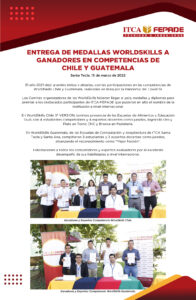 The year 2021 was a year of great successes, with the participation in the WorldSkills Chile and Guatemala, held online due to the Covid 19 Pandemic.
The WorldSkills organizing committees sent medals and diplomas to award outstanding participants of ITCA-FEPADE who raised the name of the institution at an international level.
In WorldSkills Chile 5th edition, we have the presence of the Food and Education Schools Dual, with 4 competitors and 4 experts as judges, registering Gold and Silver in CNC Lathe and Bronze in Confectionery.
At WorldSkills Guatemala, from the ITCA Santa Tecla and Santa Ana Schools of Computing and Architecture, it has 3 students and 3 teaching experts as judges, achieving recognition as "Mejor Nación".
Congratulations to all competitors and expert evaluators for the excellent development of their world-class skills.
See the video and news below from our member from El Salvador.